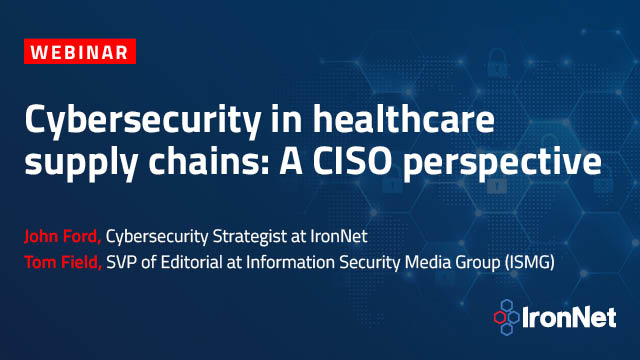 "Cybersecurity is a supply chain problem." This statement, in one form or another, is increasingly making its way into headlines around the world. And efforts like COVID-19 vaccine research have made the vulnerabilities of the healthcare supply chain, in particular, shockingly personal.
From medical records and payment systems to research and the medical devices themselves - the healthcare supply chain is a vast web of complex hardware, software, processes and paperwork. Yet few industries hold the level of personal, and even physical, risk should compromises occur via a cyber attack. The problem is almost too big for organizations to get full visibility into using traditional means -- so why would they? IronNet's Collective Defense model creates a secure sharing ecosystem among all entities of a supply chain in order to increase visibility into the threat landscape, detect attacks that go unnoticed by other tools, and share those attacks as an early warning system among other participants.
In this webinar, we'll tackle the difficult questions such as:
How much can -- and should -- you control about your supply chain?
Where are the unknown vulnerabilities?
Where should the accountability lie?
What can be done to increase the security of healthcare supply chains?
Speakers:
Tom Field, SVP of Editorial at Information Security Media Group (ISMG)
John Ford, Cybersecurity Strategist at IronNet