With issues such as Huawei and 5G, election security, and ongoing attacks from foreign actors, the world is seeing a frenzy of cybersecurity policy discussions. Get an inside perspective from seasoned cyber intelligence experts on the priorities for securing the public and private sectors — and how they can work together for stronger results. Join IronNet as we host former U.S. House Intelligence Committee Chairman Mike Rogers, who is also Vice Chairman of the Board of Trustees of MITRE Corporation, for a people-process-technology discussion about the cybersecurity industry and policymaking.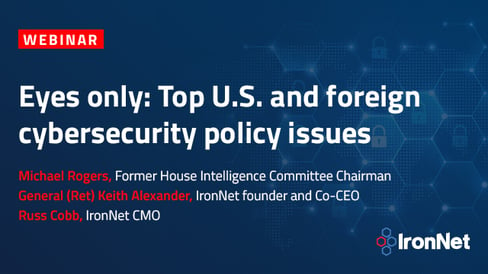 From this webinar, you'll get insight into:
The most pressing vulnerabilities the private and public sector is facing today





The cyber policies and technologies that are most important to pay attention to right now





How MITRE's new Engenuity foundation is driving research and development into areas like encryption standards and 5G networks.
Presented by:
Former House Intelligence Committee Chair, Mike Rogers





General (Ret) Keith Alexander, IronNet Co-CEO





Russ Cobb, IronNet CMO