Tired of defending in isolation?
Strengthen cybersecurity with
IronNet Collective Defense
Now you can gain defense economies of scale by collaborating with
others organizations in real time.
The IronDome platform delivers the unique ability to automate real-time knowledge sharing and collaboration between and beyond sectors for faster threat detection.
IronDome gives you: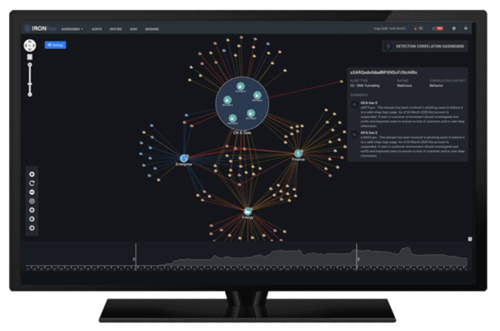 Powerful strategy in cybersecurity: Collective Defense.

This concept has circulated before in other realms: most notably as the foundation of NATO's historic Article 5, which states that an attack on one member is an attack on all members. Now, this collaborative approach is part of an urgent call to action by the U.S. Cyberspace Solarium Commission.

Stronger as One: The Case for Collective Defense

A steady increase in collaboration and capabilities among threat actors has put companies in a position where they can no longer work alone on cyber defense.
"The value proposition associated with the Dome is not just about Con
Edison. It's about the entire sector — and other sectors — that are at risk
from a cyberattack. Understanding what's going on in those networks
compared to ours makes us collectively stronger and better able to mitigate those risks."
How secure is your supply chain? Discover the weak spots and how to defend against indirect cyber attacks. Read More
A closer look at how IronDome improves visibility, response, and effectiveness
Broader visibility
Threat and information sharing among participants provides the broadest knowledge base across networks, preventing damage from unknown threats.
Faster detection
Real-time automatic sharing of threat insights improves detection of stealthy threats that hide in the noise, enabling proactive response against threats missed by traditional cybersecurity tools.
Efficient response
IronDome shifts security operations from reacting to individual alerts to proactively defending the enterprise against threats at scale.
How it works
IronDome creates a communication support network that identifies attacks as they evolve. All members are anonymously notified of anomalies identified by participating companies through their IronDefense local instances and are told how prevalent this particular behavior is within the industry and the risk it poses for the enterprise.