Whitepaper
Collective Offense Calls
for Collective Defense
A Reality Check for
Cybersecurity Decision Makers
To better understand the current challenges and strategies among senior cybersecurity executives, IronNet commissioned the independent research firm Vanson Bourne to interview 200 US security IT decision-makers.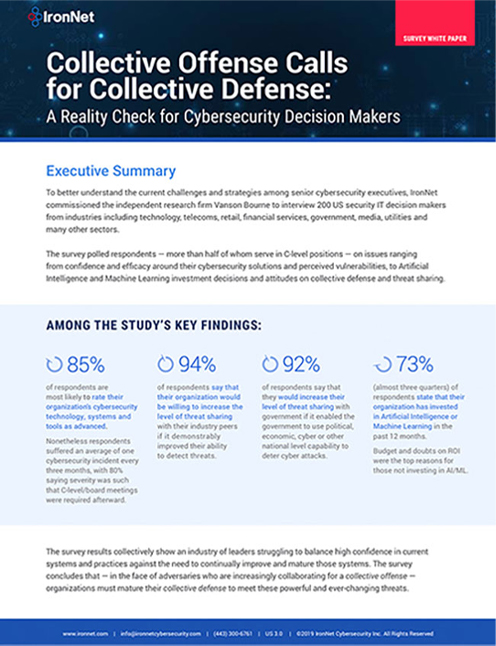 In this white paper, you'll learn:
The pulse on today's security solutions, top industry concerns and perceived vulnerabilities, and why collective defense and threat sharing is essential to combating today's cyber threats
Among the Study's Key Findings:
Existing "advanced" cybersecurity systems,
including investments in AI and ML,
are not preventing cyber incidents.
Leaders have an appetite for sharing
the threats they're experiencing to increase
the quality of their detection.
85%

of respondents are most likely to rate their organization's cybersecurity technology, systems, and tools as advanced.

73%

of respondents state that their organization has invested in Artificial Intelligence or Machine Learning in the past 12 months.

94%

of respondents say that their organization would be willing to increase the level of threat sharing with their industry peers if it demonstrably improved their ability to detect threats.

92%

of respondents say that they would increase their level of threat sharing with government if it enabled the government to use political, economic, cyber, or other national-level capabilities to deter cyber attacks.