Universal challenges
require innovative solutions
Cybersecurity solutions
for the real world
Find out why enterprises across the private and public sectors trust
IronNet products and services when failure is not an option.
Technology solutions for today's
security challenges
Network Detection and Response

Escalating sophistication of threats requires organizations to use multiple sources of data for threat detection and response. IronDefense enables security operators to obtain quick threat visibility across an entire environment without using agents.

Collective Defense

Collaboration is essential for reducing cyber risk across an industry. IronDome enables clients to share detected events anonymously with trusted industry peers enhancing detection speed and efficacy for all participants.
Meeting specific cybersecurity needs across industries
What's in it for your SOC?
Scaled-up resources

Advanced behavioral analytics, with threat ratings from the IronNet CyOC, more accurately identify malicious behavior.

Real-time visibility of attacks

IronDome's Detection Correlation Dashboard presents threats visually as they occur across a network of peers, allowing enterprises to monitor threats and prioritize responses.

Proactive & timely defense

Learning from threats detected on peers' networks in real time minimizes impact to business, not only decreasing dwell time of threats but allowing for a proactive defense.

Reduced alert fatigue

Correlated threat information improves accuracy and keeps the security team focused on high priority threats and reduces hunt time.
Integration with existing tools
IronDefense integrates easily with existing tools, including SOAR and SIEM,
and finds more credible threats to improve effectiveness and efficiency of existing security infrastructure.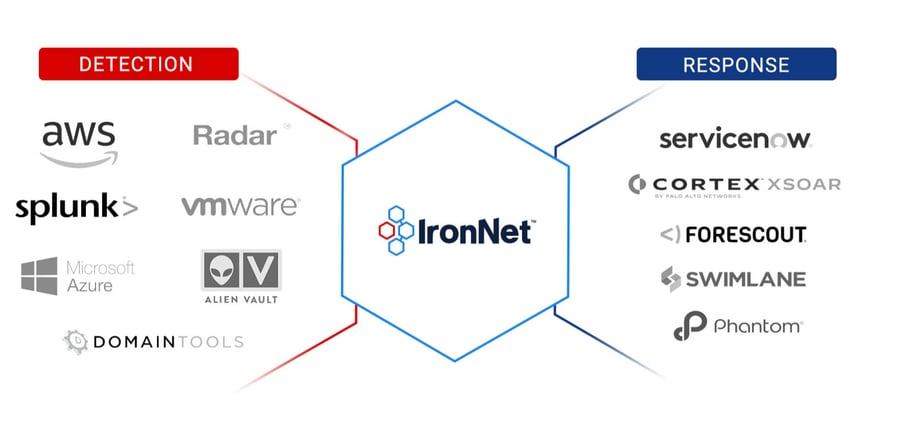 How We Compare
DARKTRACE
VECTRA™
ExtraHop
Cisco
Deployments: Performance & Deployments
Max Analytical Throughout
50+ Gbps
~5 Gbps
Not Rated
Not Rated
Not Rated
Max Sensor Ingest (per Sensor)
Up to 10+ Gbps flow with Full-PCAP
Up to 6 Gbps flow with minimal PCAP
Up to 20 Gbps Flow & minimal PCAP
Up to 100 Gbps Flow & Full-PCAP
Up to 20 Gbps flow only
Sensor
Hardware, Cloud , VM
Hardware, Cloud , VM
Hardware, Cloud , VM
Hardware, Cloud , VM
Hardware, Cloud , VM
Cloud
Public Cloud, Private Cloud, On-Premise
Public Cloud, On-Premise
Public Cloud, On-Premise
Public Cloud, On-Premise
Public Cloud, On-Premise
Network Detection & Response
Behavioral Analysis
Behavioral Analysis backed by Expert System
Outlier Anomaly Detection
Behavioral Detection
Network Performance Monitoring-based Analysis
Netflow Analysis
AI/ML Approach
Supervised, Unsupervised, & Deep Learning
Mostly Outlier Detection, Bayesian Analysis
Supervised, Unsupervised, & Deep Learning
Supervised, Unsupervised, & Deep Learning
Supervised, Unsupervised
Encrypted Traffic
Behavioral Analysis, JA3
JA3
Behavioral Analysis, JA3
Full SSL/TLS Decrypt
Behavioral Analysis
("Cisco ETA")
Forensics (PCAP)
Continuous
Limited
Limited
Continuous
--
Response
SIEM, SOAR, EDR, Firewall/NAC
TCP Reset (aka Antigena)
SIEM, SOAR, EDR, Firewall/NAC
SIEM, SOAR, EDR
Cisco Specific SIEM, SOAR, EDR, FIrewall
Traditional Threat Intel Integration
IronNet IronDome TIRs, 3rd Party, Client Custom Feeds
--
3rd Party Feeds
3rd Party Feeds
Cisco Talos, 3rd Party, Client Custom
Advanced Threat Research
IronNet Detection Threat Research
--
--
--
Cisco Talos
Real-Time Collective Intelligence
Subscription Services
IronDome
--
--
--
--
SOC Triage Insights Sharing
--
--
--
--
Behavioral Threat Sharing
--
--
--
--
Real-Time Industry Visibility
--
--
--
--
Custom Supply Chain Sharing
--
--
--
--
Optional 1-Way Government Sharing
(Opt-in)
--
--
--
--
Professional & Support Services
Deployment & Installation Services
Cyber Hunt Services
IronNet CyOC
--
Vectra Sidekick (Monthly/Bi-Weekly Reviews)
--
Cisco Advisory Services
3rd Party Services
Accenture, Raytheon or client existing MSSPs
Existing regional MSSPs
Existing regional MSSPs, MDRs
MSSPs, MDRs
Major SIs, MSSP/MDR Partners
Cyber Advisory Services
IronNet Customer Success or selected highly trained SI/MDR partner
Customer's existing MSSP/MDR partner
Customer's existing MSSP/MDR partner
Customer's existing MSSP/MDR partner
Cisco Advisory Services, or MSSP/MDR Partners
Access to SME Experts
Highly-trained staff of ex-NSA, DoD, and commercial cyber experts
--
Limited Access to Vectra Experts (20-40 hours per year)
Basic Security Assessments Only
Cisco Advisory & Talos Intel
Certifications
FedRamp
FedRamp Ready
--
--
--
--
DHS CDM APL
--
ISO/IEC 27001
--
SOC2 Type 1 & Type 2
--
--