Meet the CyOC: Jonathan Sallot
By IronNet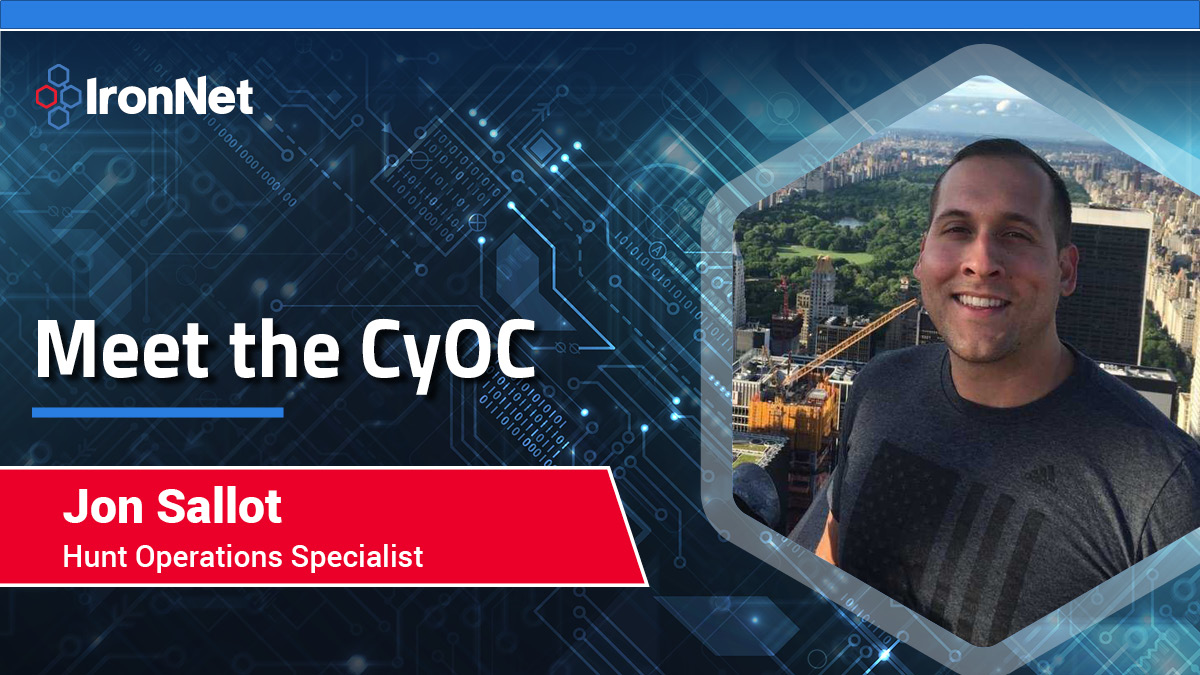 Cybersecurity is largely a technical field, with battles every day being waged on a field of networks and algorithms. But humans are the real heroes here at IronNet. We wanted to shine the spotlight on one group in particular: the expert analysts and hunters in our Cyber Operations Center (CyOC). These are the men and women who work on the front lines investigating cyber anomalies, advising IronNet customers every day, and driving many of the innovations behind IronNet's technologies.
Meet Jonathan (Jon) Sallot, IronNet Hunt Operations Specialist:
Jon, what's your background and education?
My cybersecurity background started with my nine years in the Navy as a Cryptologic Technician, Networking — and specifically as an Interactive Operator. I performed Offensive Cyber Operations and learned quite a bit on both the offensive and defensive side of cybersecurity. While in the Navy I finished my bachelors degree in Computer Networks and Security from University of Maryland University College and hold the following certifications: CISSP, OSCP, GPEN, CEH, Network+. I hope to start a graduate program soon.
What skills help you most in your current role?
The skills I gained in the Navy of understanding attack techniques and vectors help in my current role. They allow me to help identify what attacks look like and what type of attack is being used.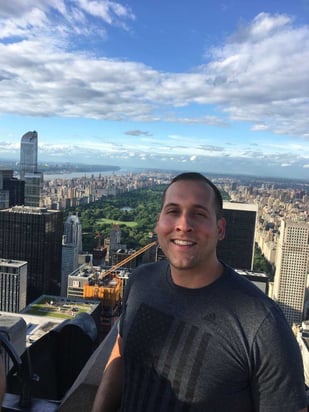 When did you figure out you wanted to work in cybersecurity? What motivated you?
Seeing the first hand effects that cyber attacks can have motivates me to continue to learn and work in cybersecurity. There are still too many companies and people who do not take it seriously and need help correcting cyber security and deficiencies in their networks.
What team do you work in, and what is a typical day like for you?
I work in the Energy/Government Hunt Team. We are five hunters total right now, headed by our lead hunter. We all help each other and constantly share information about new things we are seeing. My day-to-day consists of triaging alerts that come in from customer accounts and attempt to identify any malicious activity. We also work on identifying any bugs in the product, as well as projects to improve our ability as a whole to triage alerts more effectively.
What's your biggest challenge?
My biggest challenge is ensuring that I am staying up to date on all of the new techniques and attacks out there. Cybersecurity can move very quickly and it requires constant learning on what the newest trends and technologies are. To try and stay up to date I read cybersecurity news, listen to podcasts (Darknet Diaries, SANS Daily Stormcast, and Collective Defense podcast), and am always looking for new training courses to expand my knowledge.
What do you enjoy doing in your spare time?
In my spare time I enjoy spending time with my family, all types of sports, watching LeBron dominate the court, trying new craft beers, and playing video games when I can.
What's your favorite new technology or app?
My favorite new app is the Rocketbook Smart Notebook. I have enjoyed taking notes with it and sending those notes to my favorite cloud service. It's helped me stay a lot more organized with my daily tasks.