Truth in digital
media ROI
Maximize your digital marketing effectiveness and efficiency with advanced ad fraud detection.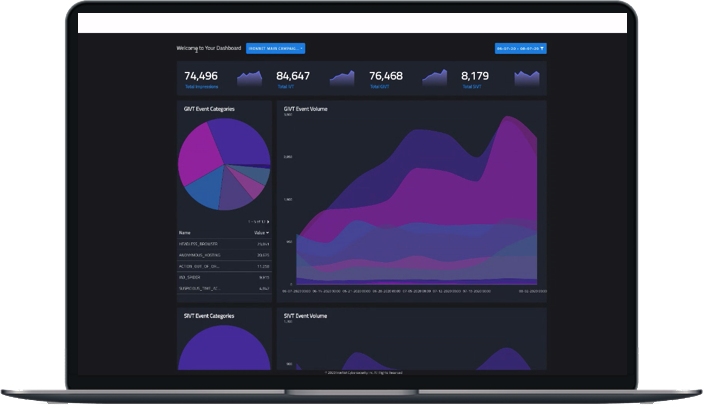 Ad fraud isn't new
Invalid traffic (IVT) driven via bots and other malicious means through your organization's digital media have been a challenge for some time. Digital marketers and savvy executives understand that invalid traffic through paid channels drives up cost, drives down viewability, and increases brand risk. This problem isn't going away — it's getting worse.
The market is littered with fraud detection tools that claim to verify the legitimacy of site traffic from digital media. Digital marketing agencies and enterprises rely on them to catch fraudulent traffic, hoping to ensure optimal ROI. These tools overlook some of the more nefarious and sophisticated forms of ad fraud, however, compromising your overall return on advertising investment.
Comprehensive detection with IronNet Digital Detect
Borne from IronNet's cybersecurity machine learning platforms, IronDome and IronDefense, Digital Detect goes beyond traditional invalid traffic detection. Our advanced behavioral analytics correlate ad traffic with malicious network activity to give you a more comprehensive picture of invalid impressions and traffic, as well as other fraudulent activities such as malware-infected corporate networks and targeted botnets. You've known there's fraudulent activity going undetected; now you'll be able to spot and defend your brand against it.

Improved return on ad spend
More accurate data to inform advertising strategy development

Thorough reporting on ad platform effectiveness

Pre-buy evaluation of ad placement for higher confidence



More effective campaigns
Real-time impression results to keep campaigns on target

Expertise in detection of novel patterns for IVT

Intuitive UI with live filtering enables focus on performance ratios



Reduced brand risk
Better brand protection through unsurpassed ad and network traffic analytics

Proprietary threat intel places your brand on legitimate, safe sites only

Unmatched accuracy provides proven results, and more customer reach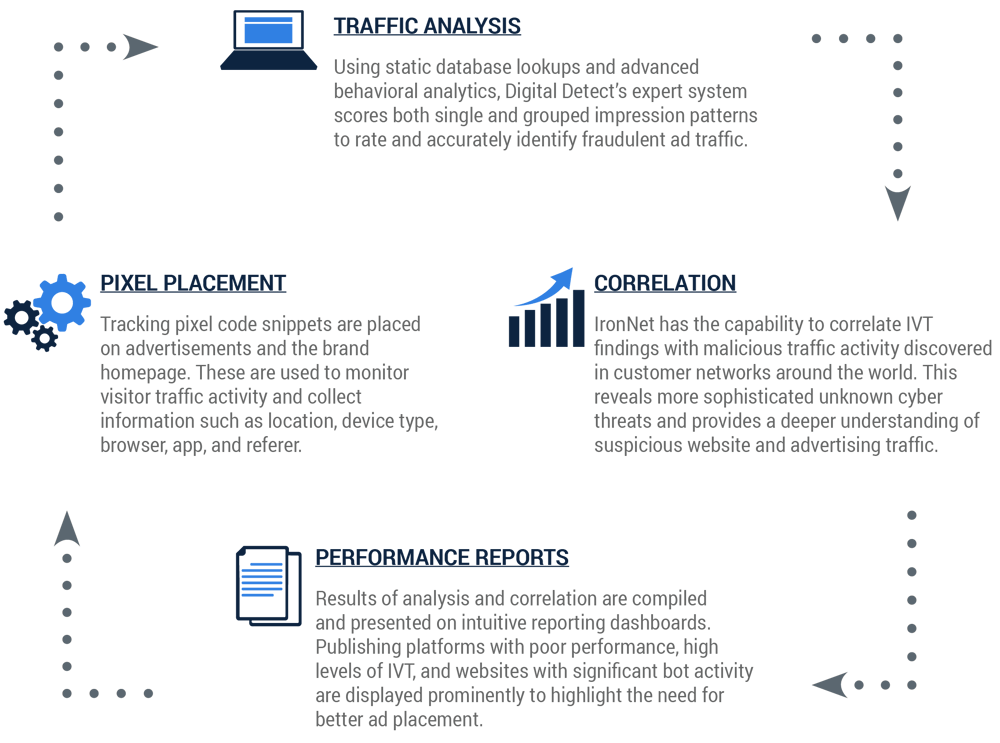 Fortune 1000 digital marketing company
Objective:
Compare Customer's current IVT solution to Digital Detect's capabilities to demonstrate the value of scanning for IVT behaviors beyond the primary metrics of the incumbent solution.
The Solution:
IronNet's advanced fraud detection technology was deployed and monitored, comparing customer's paid search activity to their incumbent solution.

The Outcome:
– IronNet Digital Detect was able to identify that Customer's primary marketing solution for Search Engine Marketing (SEM) was yielding 15.65% invalid traffic
– 78% of IVT was driven by Bing/Yahoo, 28% by Google
– Of their $140M annual search spend, ~$22M in savings could be yielded
Global consumer brand
Objective:
Identify traditional IVT compared to that of the incumbent fraud detection tool and detect, analyze and report previously undetected malicious or fraudulent activity that could impact the customer's brand safety and consumer reach.
The Solution:
Apply Digital Detect to customer ad creatives inside of a major DSP before execution and identify standard IVT as well as a newly defined category CyberIVT.
The Outcome:
– 2%+ of impressions identified as standard IVT
– 13% incremental of impressions identified as CyberIVT
– Assessment shows that certain traffic during this campaign was being routed to either a sophisticated criminal or nation-state actor